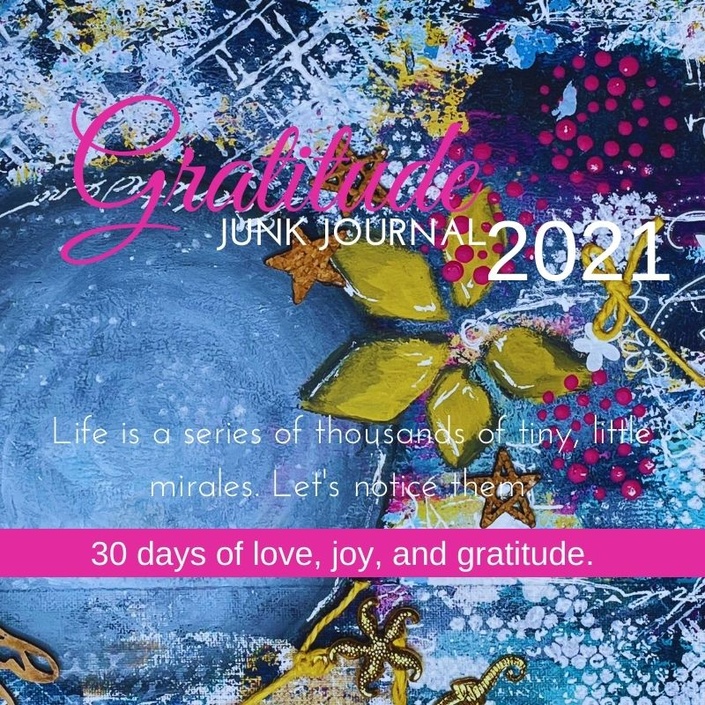 Gratitude Junk Journal 2021
love. joy. gratitude.
REGISTRATION NOW OPEN!
We are doing it again, making gratitude a habit. This year we are embracing LOVE and cultivating JOY!

practicing gratitude allows you to have a predominant habit of seeking and finding the good in your life.
Join me along with these AWESOME instructors as we make gratitude a habit, jump into mixed media art techniques, practice self-love, experience joy and play with a little bit of junk or perhaps a lot!
Learn more about each instructor below.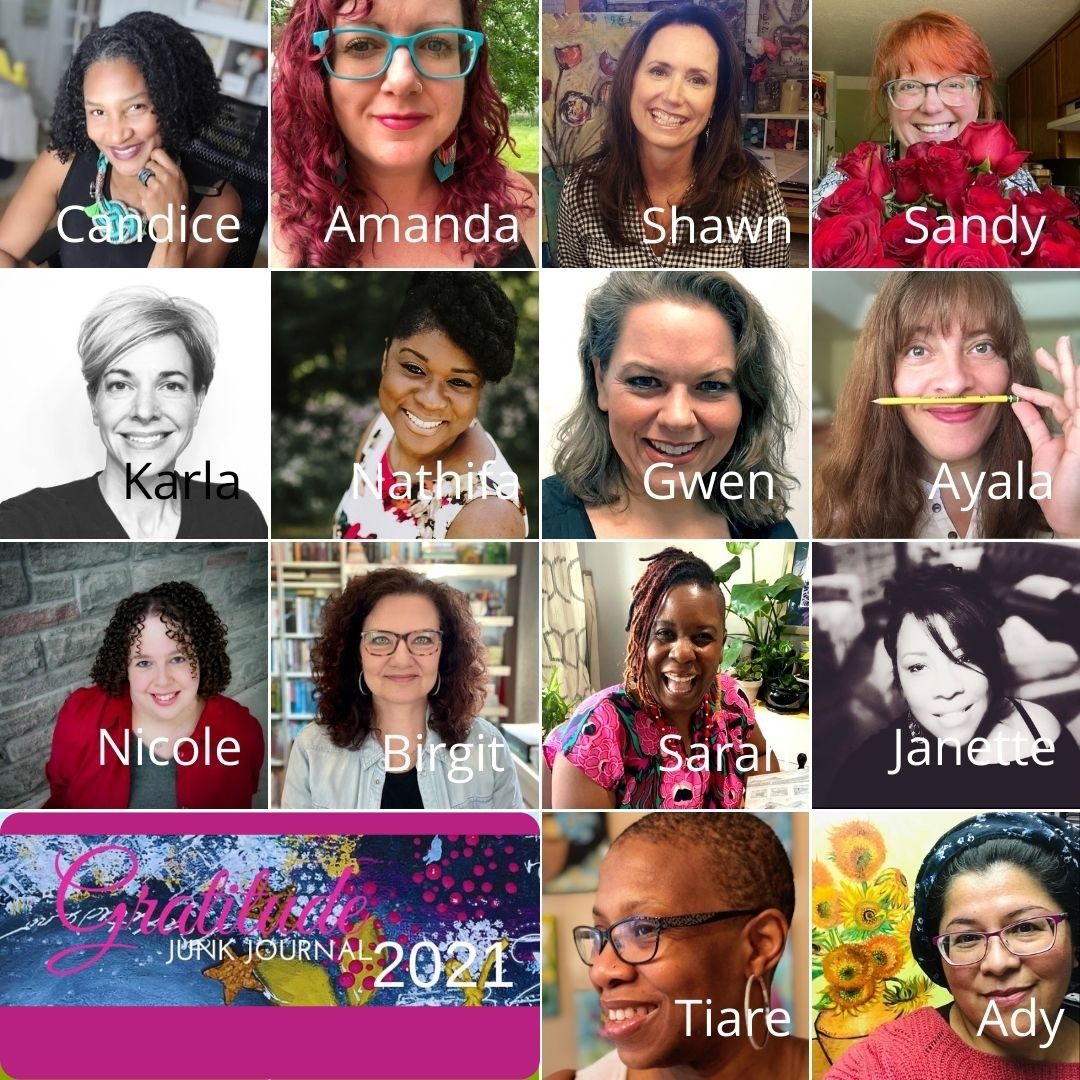 the more grateful I am the more beauty I see.
We'll start our journey together making an altered book journal. We'll use a spiral bound book/journal and use what's on hand to create something wonderfull and fun to hold our thoughts, our junk, our joy, our gratitude!
Here are a few of our previous junk journals.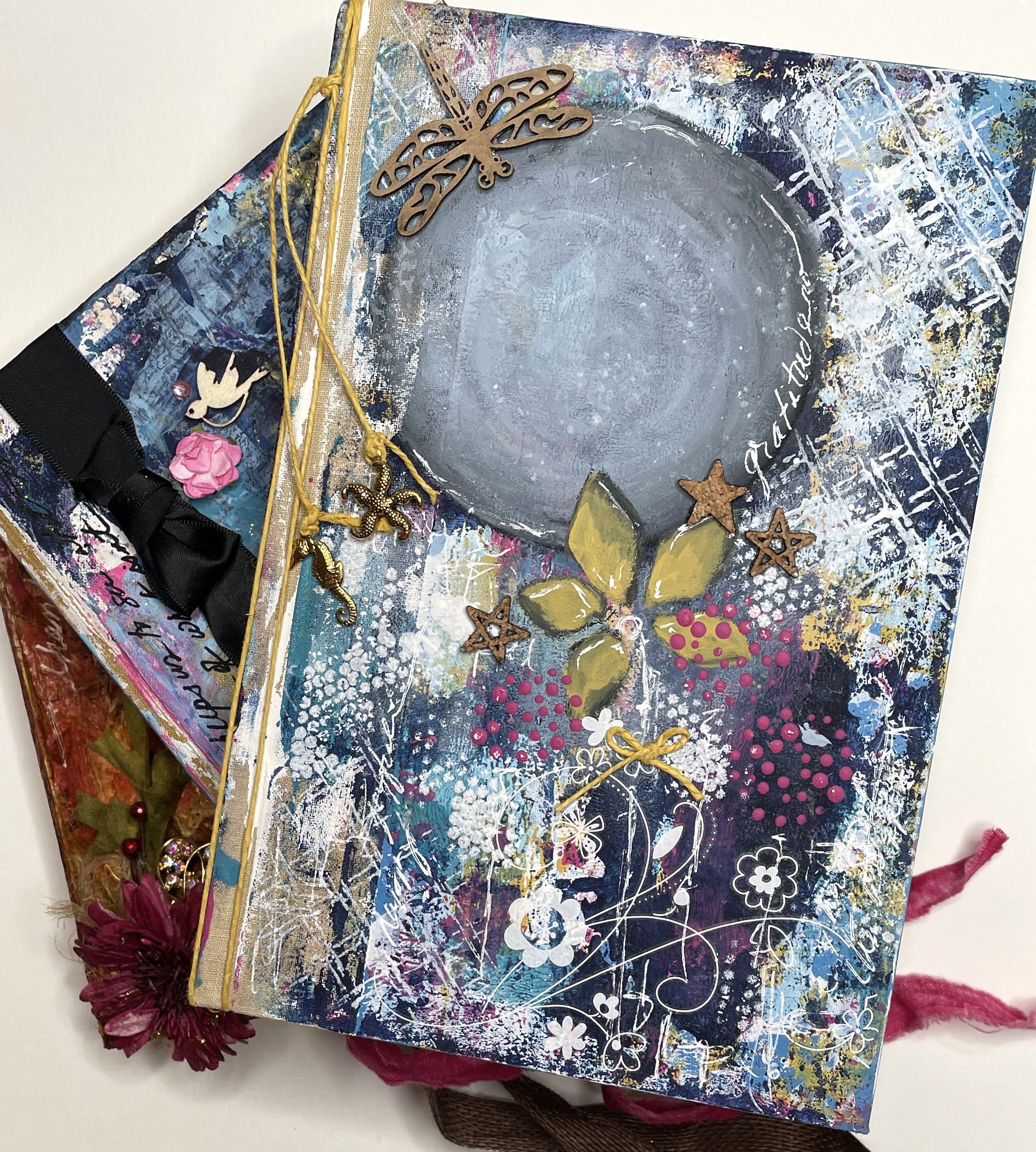 Each day you'll be given a reason to be grateful, a question to answer, something to think about or something to create. You'll find a little joy in each day. You'll leave this workshop with an open heart, a warm smile, and some extra love.
In this workshop you'll learn
how to create a beautiful, altered book for keeping your thoughts and art.
how to make awesome art journal pages that you are sure to love
to practice gratitude daily through art and sharing.
how to use (junk), bits and pieces from your stash and/or around the house to make great art.
how to work with yummy layers and textures.
techniques for creating wonderful backgrounds.
techniques that will empower you to make great art again and again.
Here's what you can expect:
Step-by-Step Mixed Media Tutorials
Video Tutorials
Downloadable PDFs
Work at your own pace
Wonderful for beginners or anyone who wants to expand their creativity and practice more gratitude in their life.
REGISTRATION NOW OPEN.
This is just a sample of each instructors style and not of the actual lessons.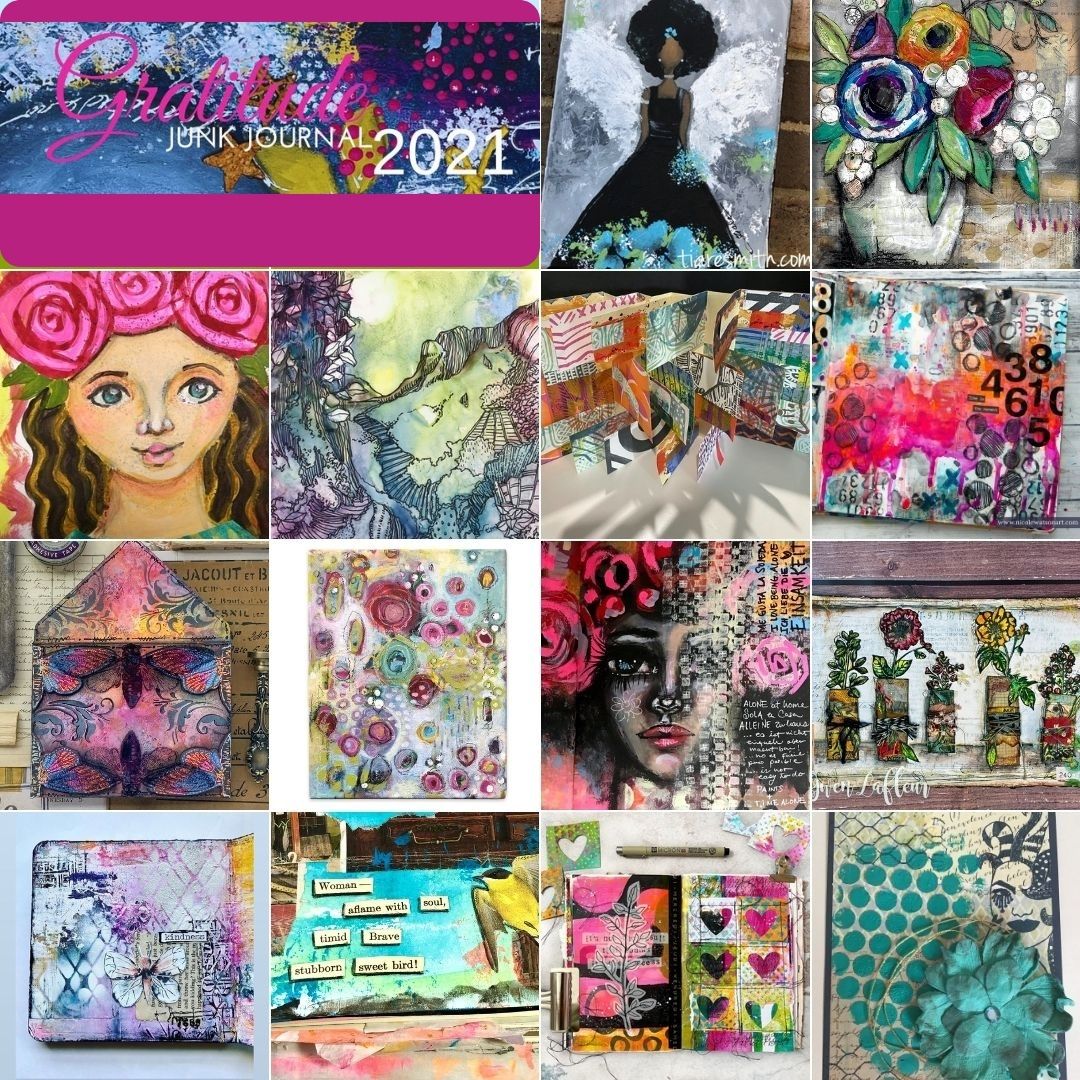 You'll leave this workshop with:
AMAZING art journal pages.
1 gorgeous, altered book journal
gratitude printables that you can print and frame for your own personal use
a great reference you can use again and again
many reasons to be grateful, some you may not have thought of
beautiful mixed media techniques you can use again and again
a little less junk, we'll dip into your stash
all new lessons for 2021
1 AMAZING BONUS:
ALTERED BOOK JOURNAL. You'll learn to transform a spiral bound book into an AMAZING art journal. You'll not only transform the outside but the inside, as well. It will be ready for holding all of the AMAZING art journal pages and gratitude you will create during this workshop.
REGISTRATION NOW OPEN.
Check out our fabulous list of instructors and learn more about them below.
Your Instructor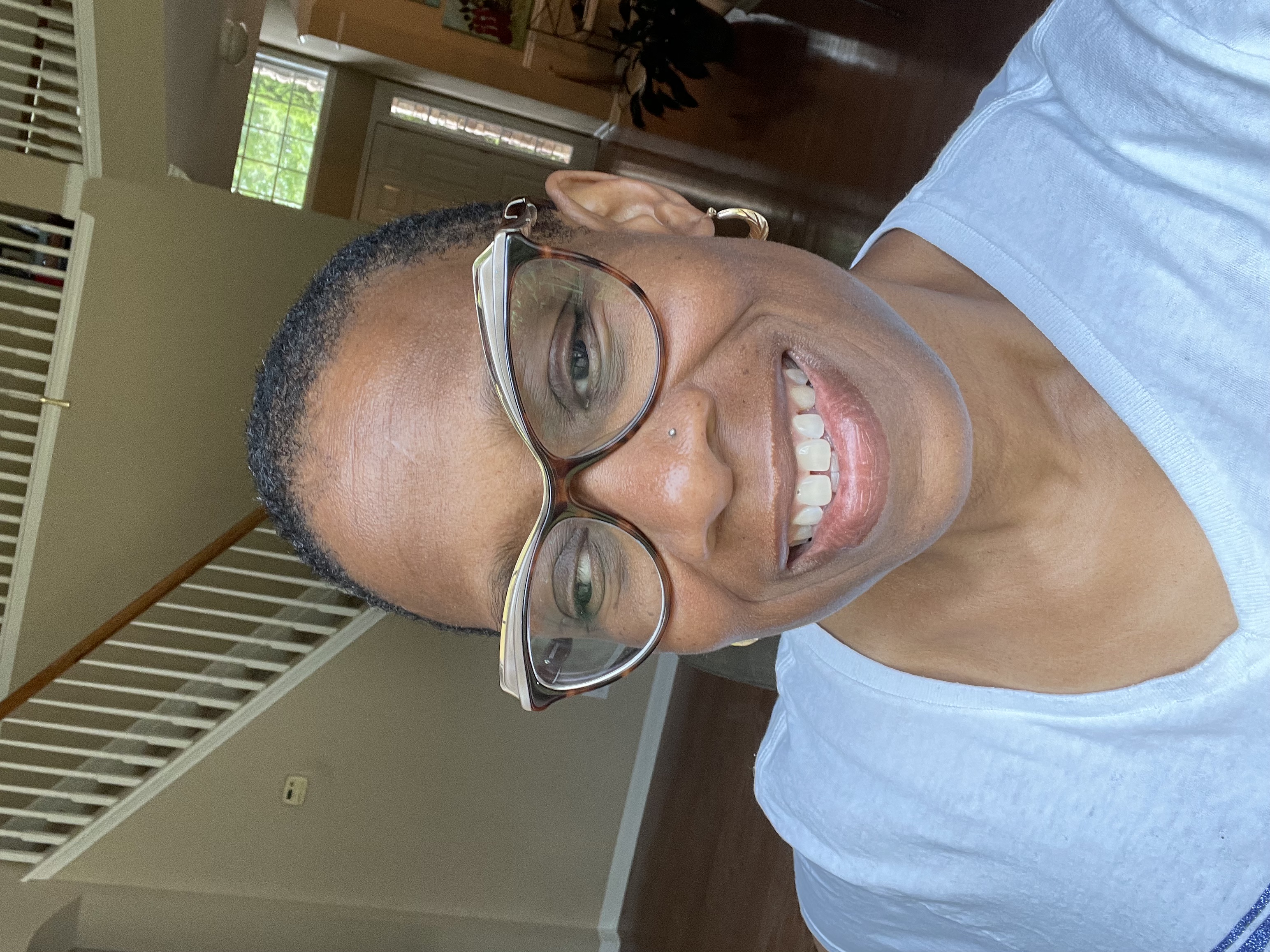 Tiare Smith is a self-taught mixed media artist and instructor.
Born with art in her heart she lost her way from her art for 18 years. It came back to her life in a burst of emotion and anxiety. By practicing techniques of love, positive self talk, and action which have helped her to overcome other areas of struggle, she now enjoys her art in a free and inspiring way.
She inspires creatives to embrace their inner artist while also nurturing their hearts and memories.
She has not only been featured on HGTV but has had numerous works published in a variety of crafting magazines and blogs.
She aims to help women embrace the artist within through lessons infused with love, happiness, confidence and creativity, empowering them to experience and express their art more freely.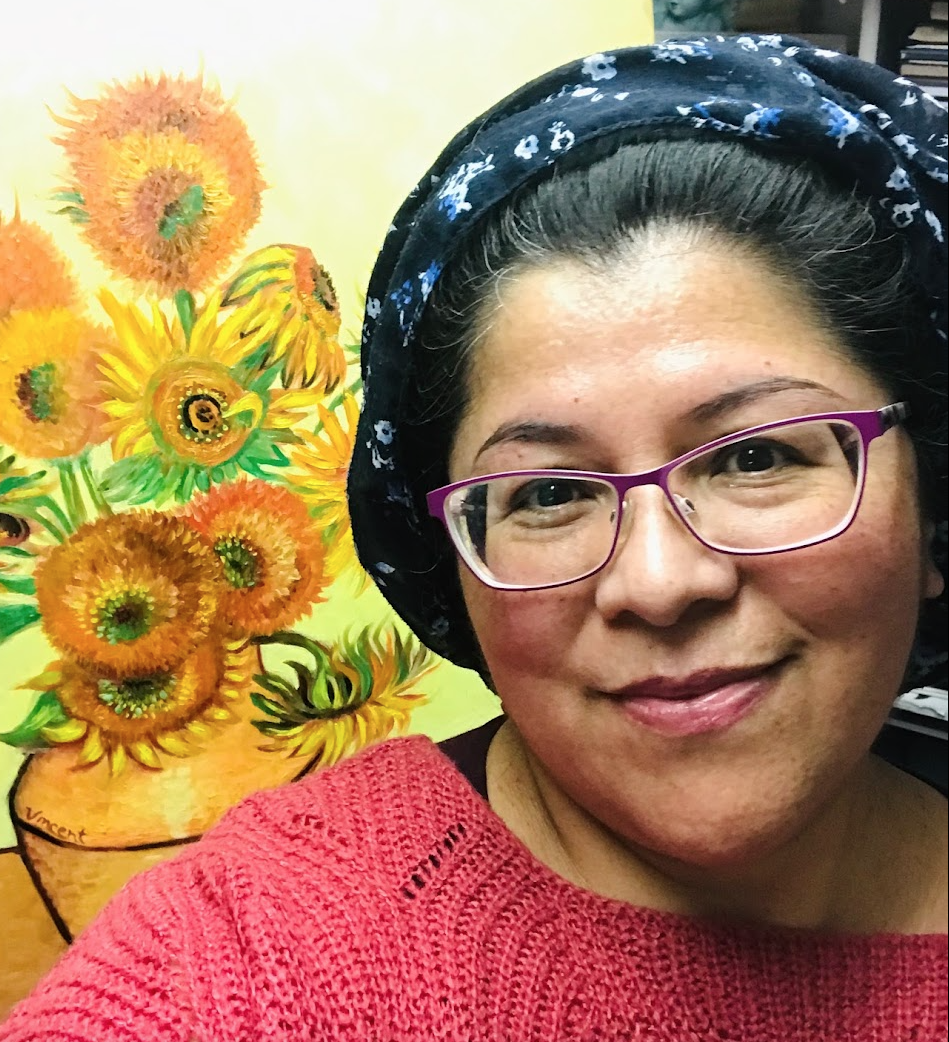 ADY ALMANZA

I am a mixed-media artist, painter and online teacher, i was born in México but live in Germany almost my whole life, i am 52 years old, i live in southern Germany with my husband, my son, 2 dogs, 4 cats and a lot of chickens LOL
I have been painting my whole life, my father is an art teacher and painter as well, he teach me how to paint with oils as i was a child, since then i have been developing my style and learning new techniques, my favorite medium are acrylics and color pencils, and i love to paint on art journals, some of them are self made some are old books from the flea market, i do art journaling everyday.
My artwork has been published in international magazines such as "art journaling magazine" by Stampington USA or "mein kreativ atelier journal" Germany and i have been teaching in several online workshops, i love to share my techniques with other fellow artists around the world.
i do believe we can express our feelings with color and shapes, saying things we had no words for by painting in our art journals."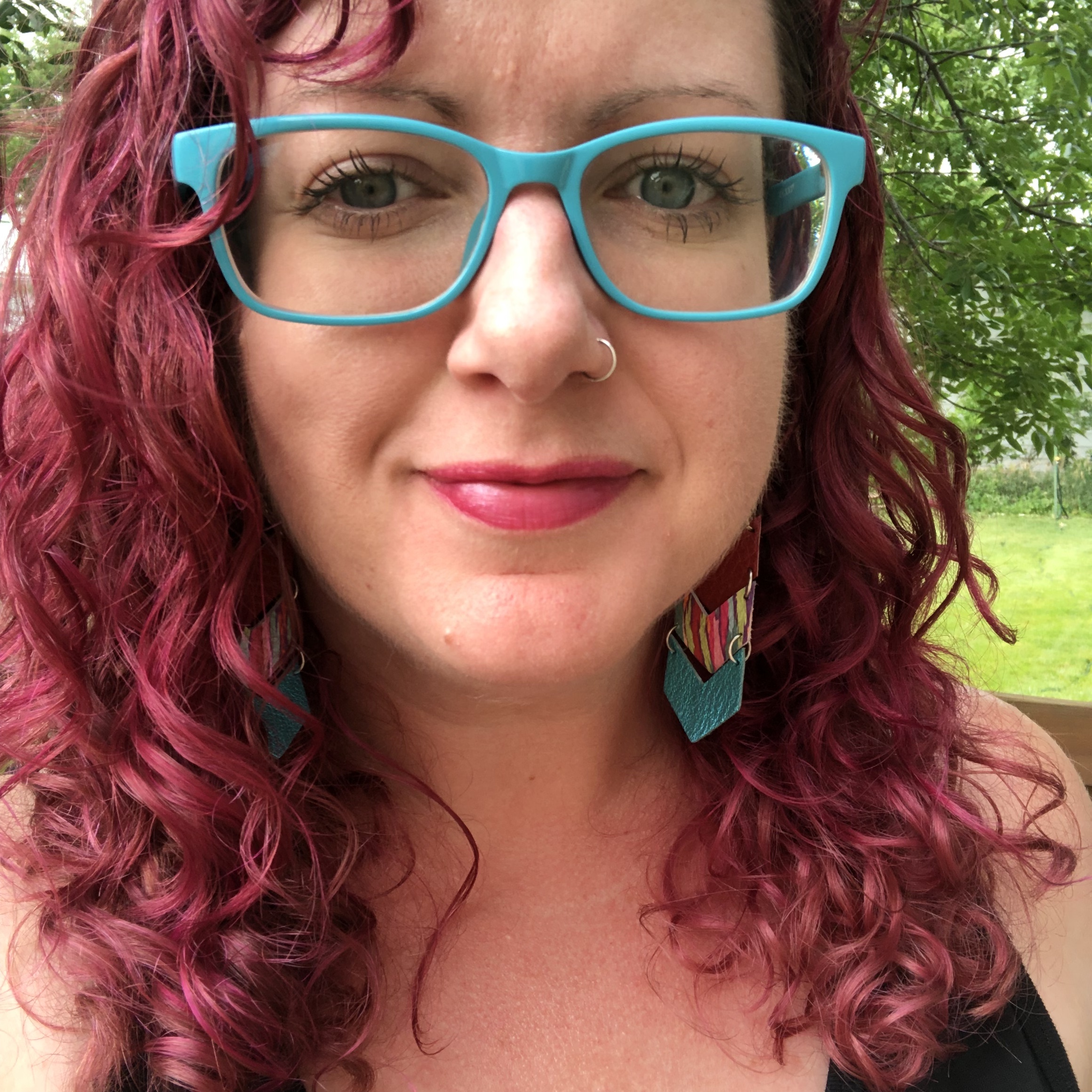 Amanda Fall is creator and curator of The Phoenix Soul community, including free collaborative blog and 64+ published digital magazine issues. Amanda is an ink-stained, paint-splattered, hot mess of a human, forever re-learning how to love herself and the world. When she's not spending time with her best friend/husband or chasing their kiddo, Maverick, she craves time spent splashing color in the pages of her many art journals, and creating encouraging art mail for her beloved Patreon flock. Visit her RedBubble for colorful and inspiring home goods and apparel.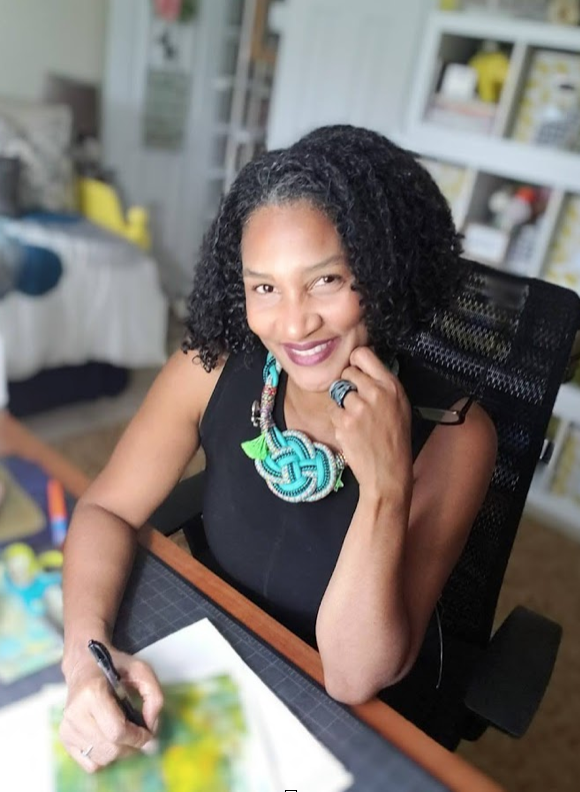 CANDICE HUNTER
Candice Hunter is a mix-media enthusiast and crafting fanatic who has been sharing her love of all things handmade since she was a child. Her artistry evolved into mixed media with a focus on custom made stationary and greeting cards. It was always something she did for friends and family, until 2019 when she was encouraged to display her art at a curated artist market. Around the same time, she was introduced to the expansive virtual crafting community through the Pass the Brush Art event on social media.
She primarily does commissioned work and showcases her art on Instagram as @paperdivanoir. She was quickly recognized as a talented craft artist by leading paper crafting organizations and is invited as a guest artist to create for some of the best companies. Candice works full-time in corporate America and teaches as an adjunct assistant professor yet crafting remains a top priority and a source of gratitude and joy for her.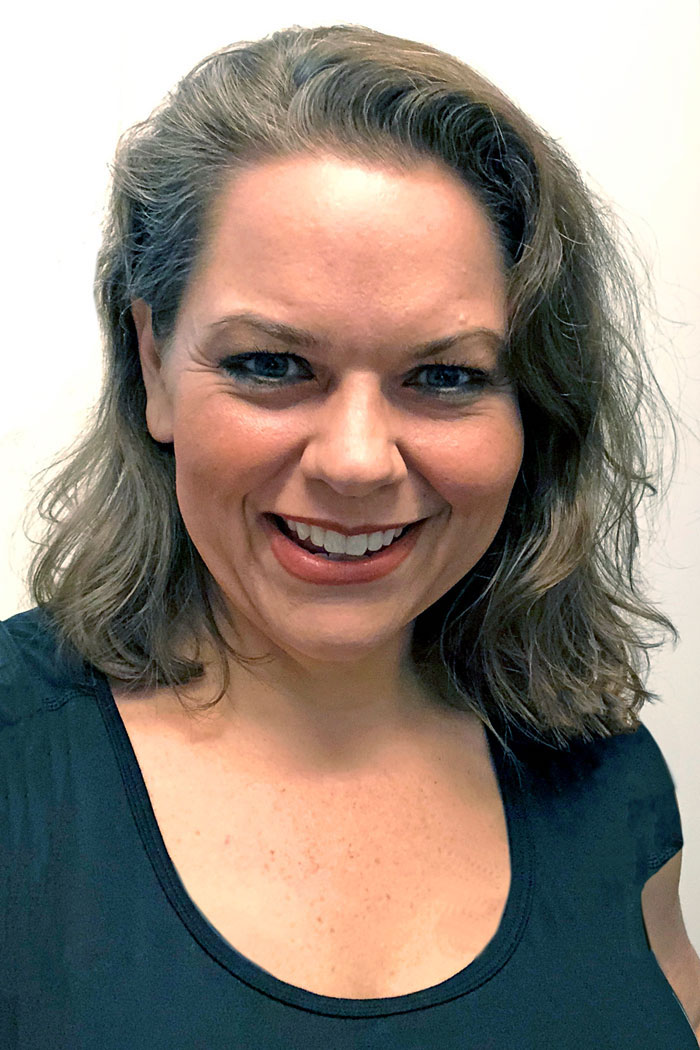 Gwen Lafleur is a lifelong artist, crafter, instructor, and world traveler from Herndon, Virginia. She has been involved in arts and crafts her entire life, trying anything from drawing lessons to paper crafts and finally finding her true home as a mixed media artist. Gwen's work has been displayed in galleries and can be found in private collections around the world and has also been published in Cloth Paper Scissors, Somerset Studio, and Creative Scrapbooker magazines. Additionally, Gwen is a product designer and has stencils available through StencilGirl Products, a line of embossing powders and embellishments from Emerald Creek Craft Supplies, and rubber stamps with PaperArtsy.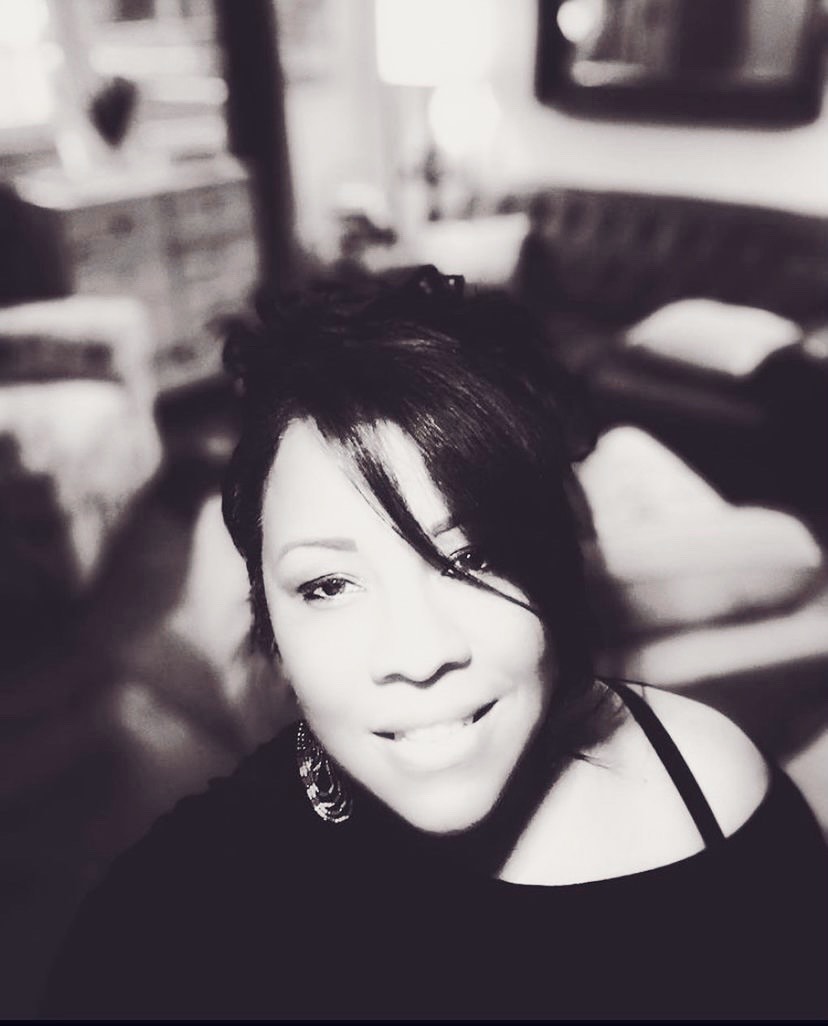 Jannette is an islander learning to live life and raise a family in the Midwest. She found mixed media art 9 Years ago after years of being a card maker and scrapbooking lover. It has been a passion of her heart not only to make art but help others to connect with their creative heart and explore their unique creative process.
Jannette's work has been featured in several magazines and she continues to spread creativity among diverse organizations through her Creative Play groups. She loves creating her own art journals, junk journals, stitching, playing and painting on vintage books and canvases.
Authenticity is a value that Jannette strives to live out in all areas of her life and as a maker her creative life isn't any different. Therefore as you create with her you will see different aspects and flavors of her cultural identity as an artist reflected as she explores with different mediums, surfaces and colors in a fun, playful and courageous way.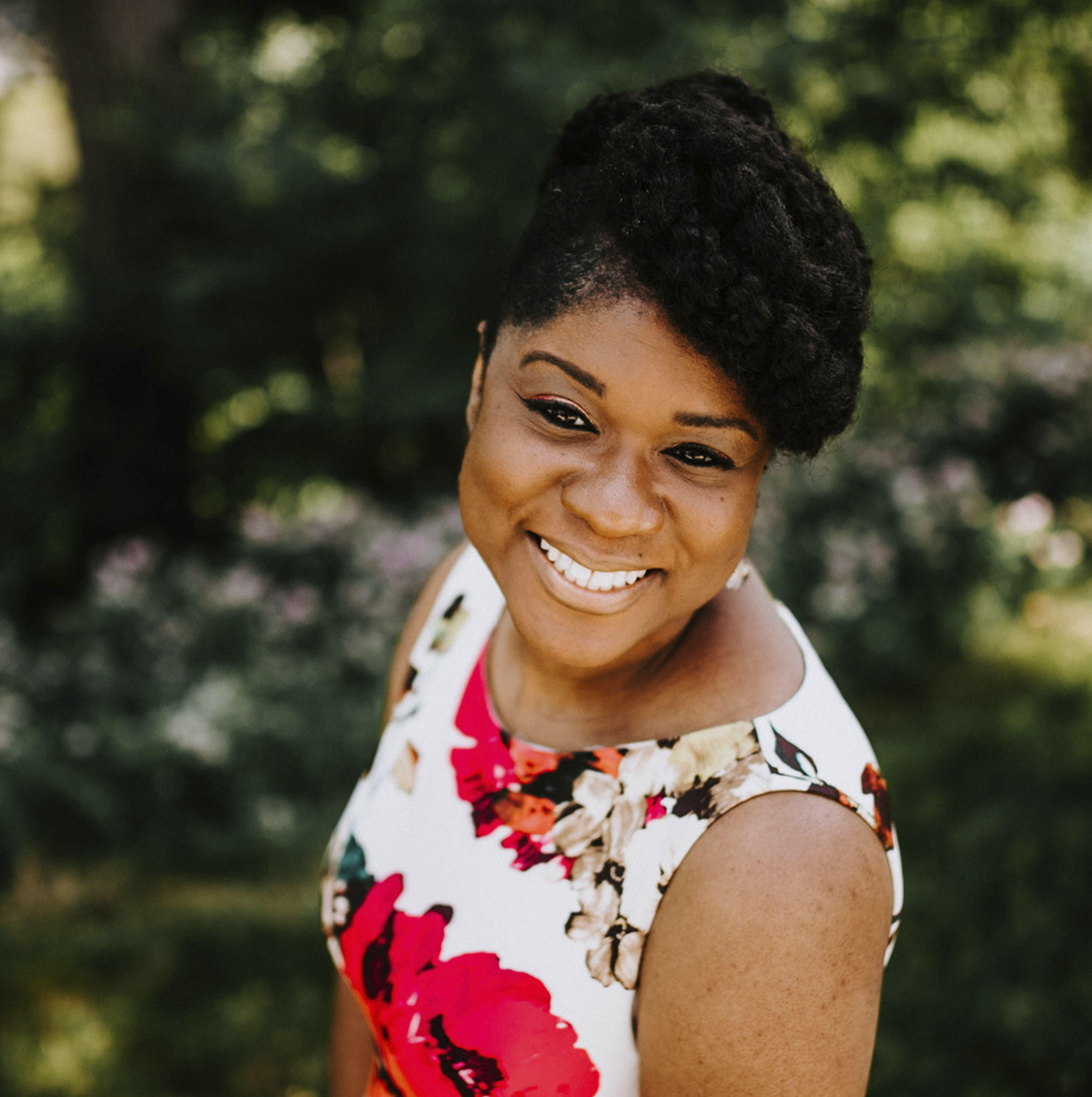 Nathifa Sligh is the owner of Juicy Christians Studio; a mixed-media art company created to inspire the hearts and stories of women. She is a mail-art enthusiast and loves to create beautiful mixed-media art and envelopes to send out into the world as happy mail. A strong believer in the power of encouraging others and understanding yourself, she also coaches people in discovering and understanding their true genius as a Gallup-Certified Strengths Coach. In her spare time, Nathifa loves to spend time with her family, travel, and create.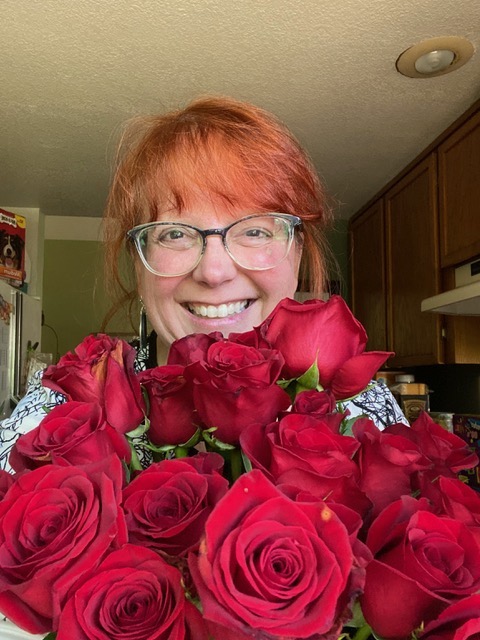 Sandy Allnock is an artist with an eclectic interest in so many creative ventures - her personal goal is to create something every day, whether it's with stamping, drawing. watercolor, pencil, markers - and everything she can get her hands on! Ever since childhood she's lived a creative life; as a young girl she dreamt of teaching art one day, and though it took many decades, she relishes the ability to help others unleash the innate creativity within themselves!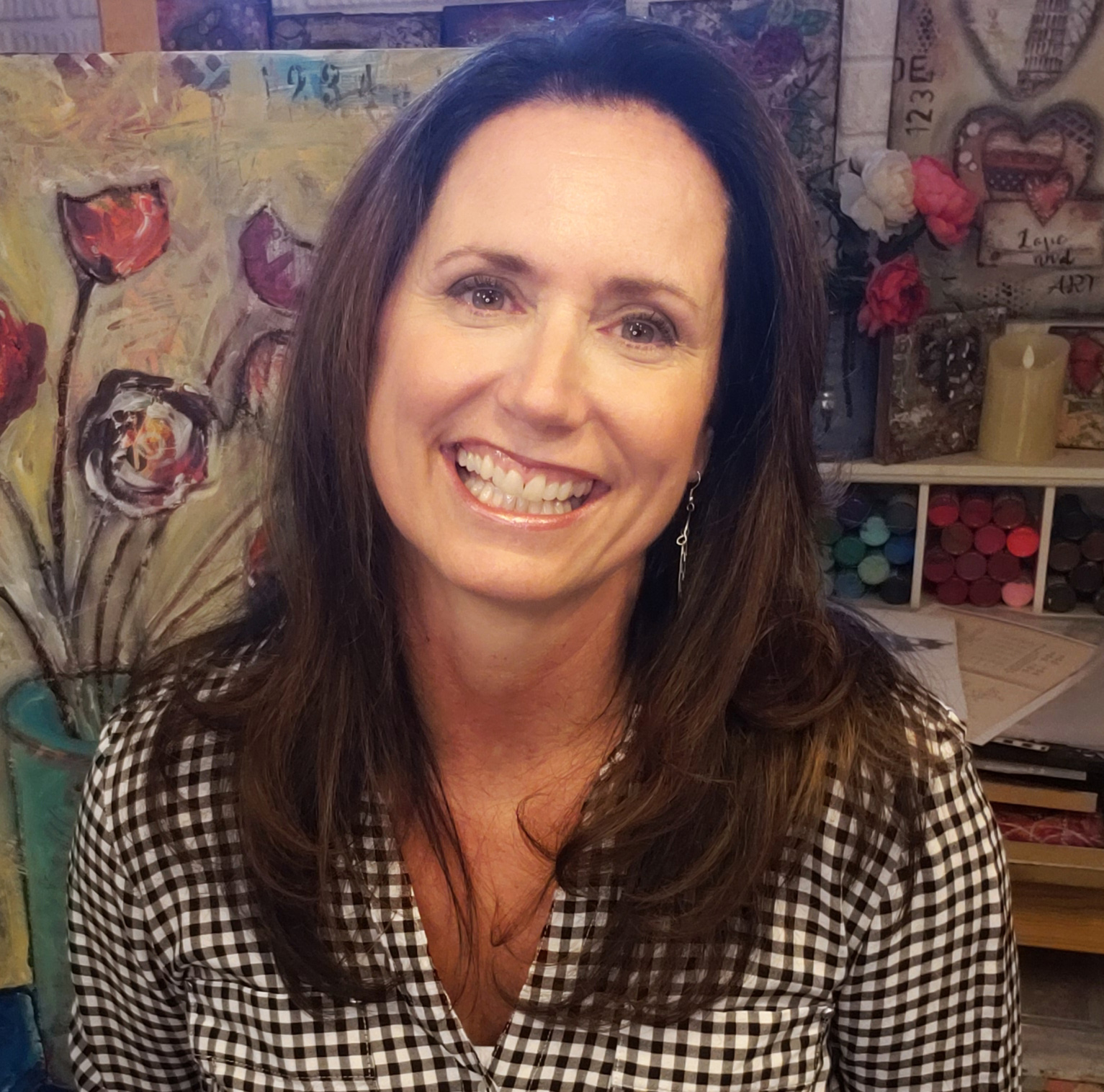 SHAWN PETITE
Well Hello There!
My name is Shawn Petite and I'm a full-time mixed media artist living my dream of creating every day.
I've been teaching and painting for over 30 years in many different mediums but found my art soul mate in mixed media.
I produce my own line of stencils and create soulful and informative online workshops on mixed media.
But most importantly, I try every day to encourage and inspire. To show love with my paintbrush. To leave my little corner of the world a better place.
I'm honored to be able to guide you in the love of mixed media art!
My favorite quote: I've learned that people will forget what you said, people will forget what you did, but people will never forget how you made them feel. " Maya Angelou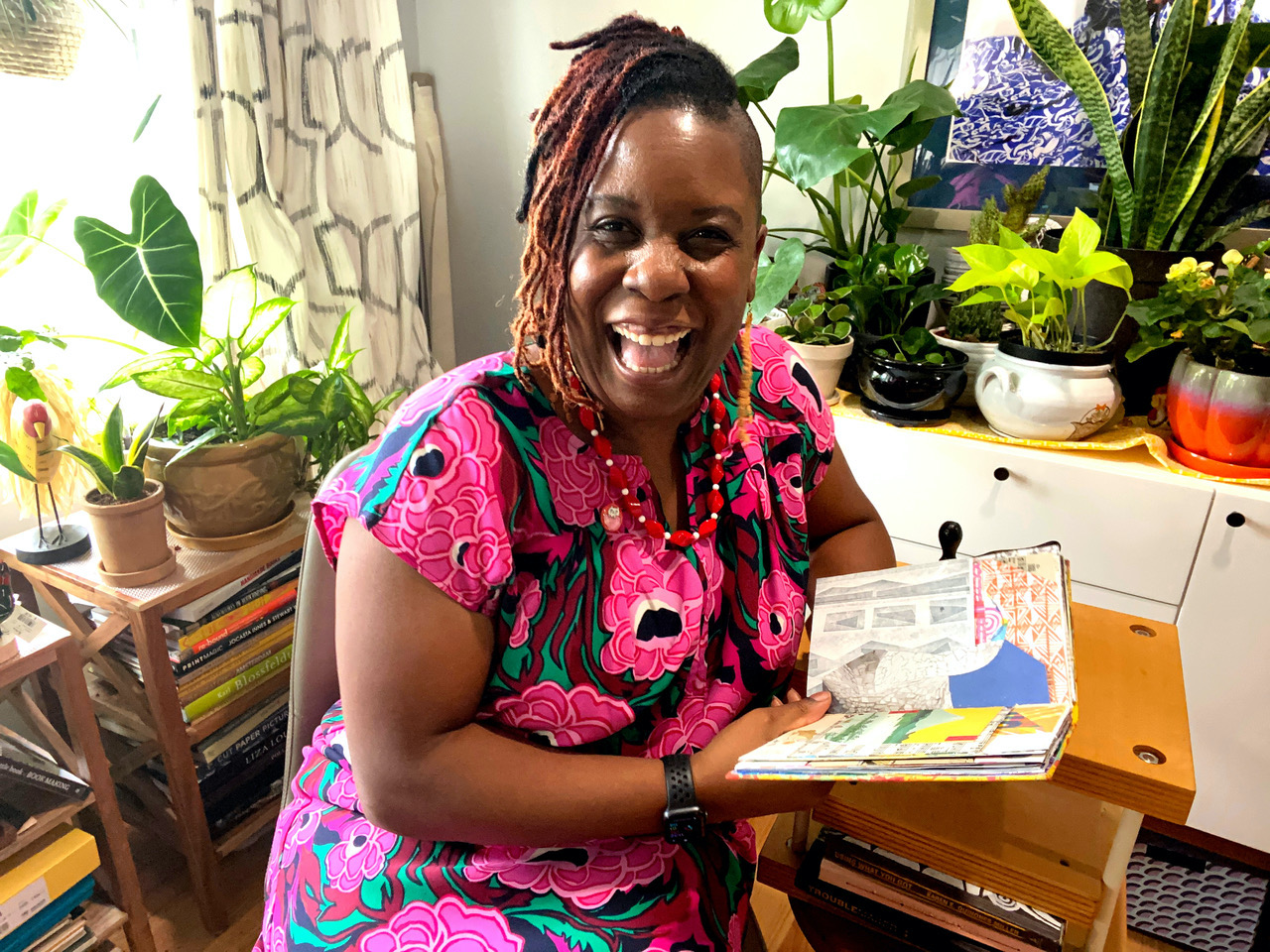 SARAH MATTHEWS
Sarah Matthews is a printmaker and book artist. Her work has been exhibited in the US and is a part of the permanent collections of Yale's Beinecke Rare Book and Manuscript Library, George Washington University's Gelman Library, University of Puget Sound, and Samford University. Sarah is currently the Alma Thomas Fellow at the Studio Gallery in Washington, DC. She is also a YouTuber and a designer for ArtFoamies.com.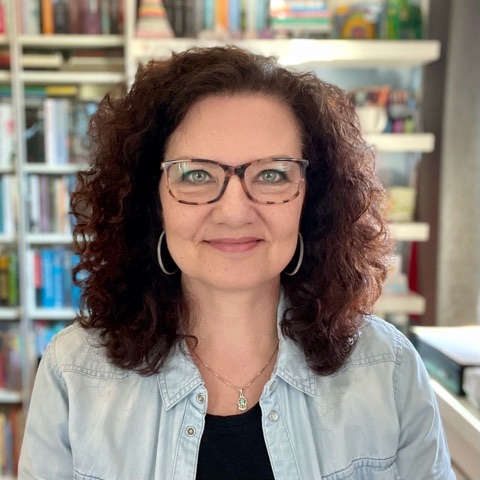 Birgit is married to Erik and a mom of 3. She lives in a little village called Winsum in the north of the Netherlands.
Birgit started scrapbooking in 2003 but then fell in love with mixed media and art journaling. Her favorite things to do right now are art journaling, mono printing and layered collage art. She loves to get her hands dirty and experiment with paints and inks and all kinds of mediums.
Birgit's art is mostly bright and colorful, with a lot of layers and details. She loves to combine colours that are very contrasting and works a lot with stamps, stencils, inks, acrylic paints and markers.
Birgit teaches and demonstrates in her own studio at home as well as in craft stores and at (international) mixed media events (pre-Covid) and taught a number of (collaborate) online classes. Teaching brought Birgit all over the world. She had the privilege to teach in the US, Canada, India, Australia and Israel but also closer to home in France, Belgium, Germany, Denmark, Finland, Norway, Sweden, Austria and the UK.
She loves to travel, see new places, meet people and explore different cultures. She considers it a huge bonus that she is able to combine that with her love of teaching and inspiring people to create art.
Since 2014 Birgit has her own product line with Carabelle Studio for whom she designs stamps, stencils and art printing plates. Birgit is a Lead Brand Ambassador for Gelli Arts® and creates monthly video tutorials for the Gelli Arts® You Tube channel and conducts regular live classes for Gelli Arts® and Michaels Stores.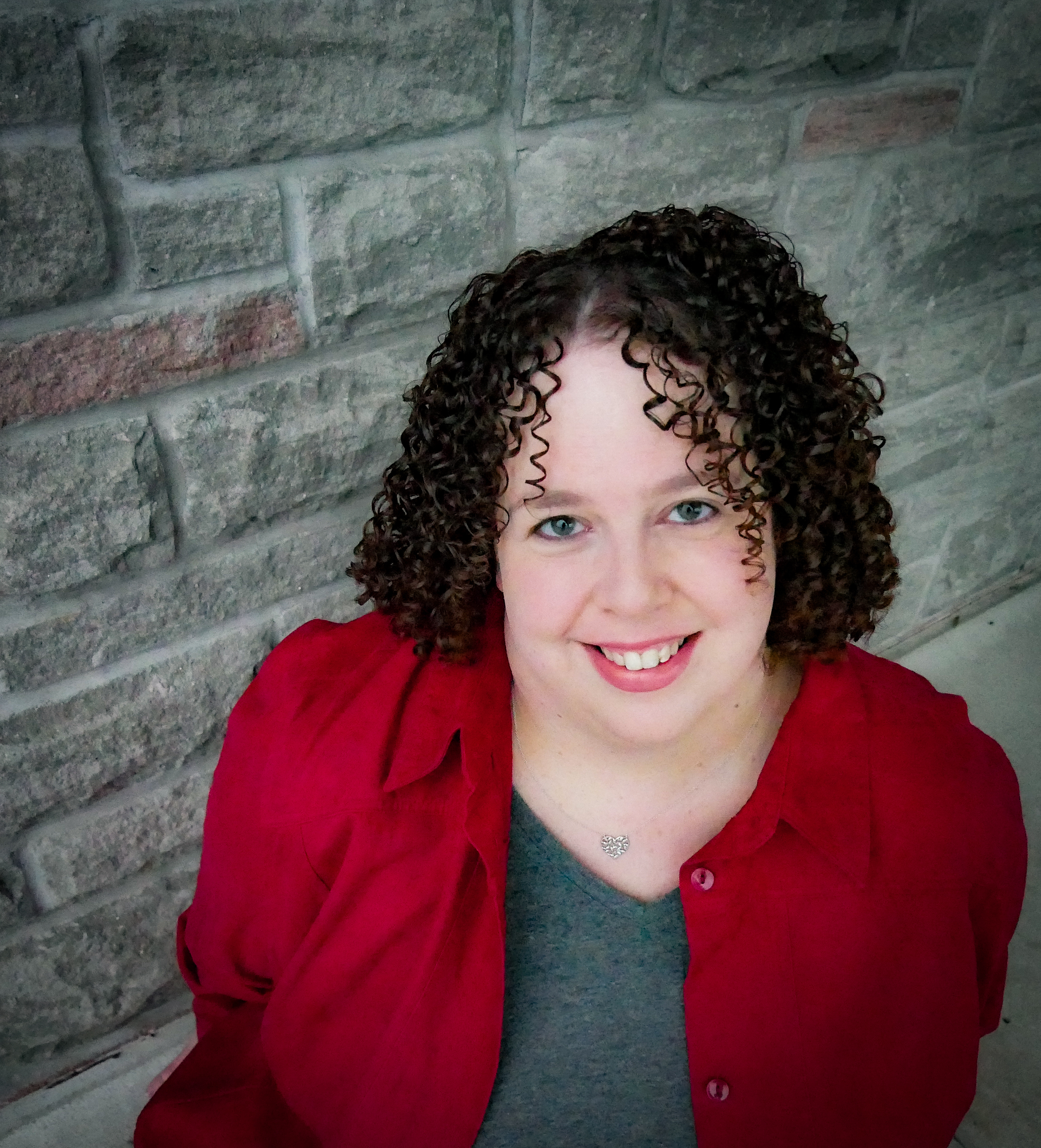 Nicole Watson is a Midwest girl who married a Southern boy now living in Austin, Texas. Art has always been part of her … from collecting random bits of paper at a young age, to selling her first painting in high school, then discovering mixed media while studying art and design in college. Other stops along her art journey include scrapbooking, card making, freelance photography, and layout/graphic design. Creating in her studio and sharing her work with others gives her life, purpose, and is healing to her soul. She has been on several design teams including Donna Downey Studios, ArtFoamies, Shawn Petite, Brush Magazine, and N*Studio.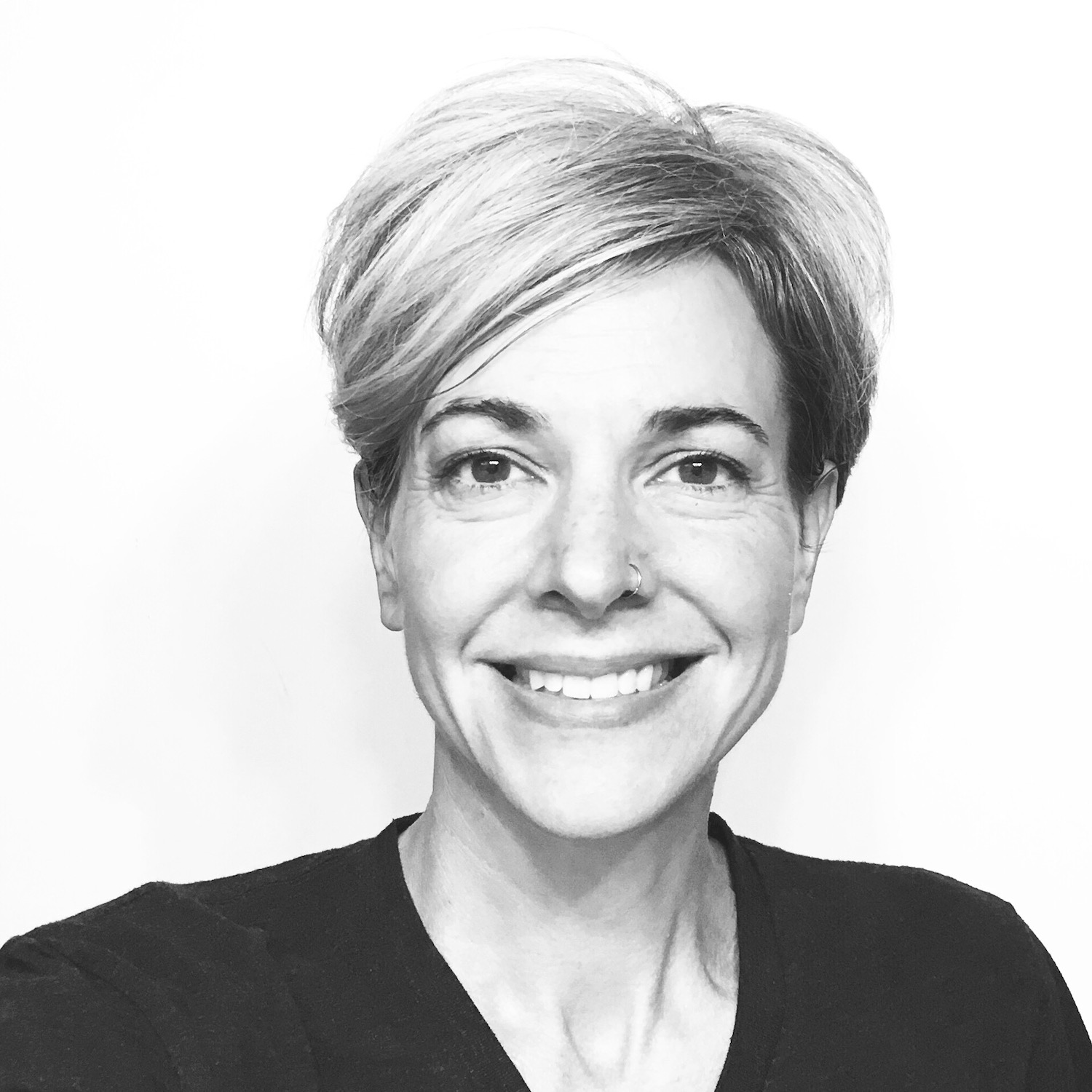 KARLA ARCHER
Karla Archer is a mixed media artist and bright color enthusiast, living in Birmingham, Alabama.

Although she was nurtured and guided in art throughout her schooling, self-doubt and "practical choices" steered her away from her creative outlets for many years.

After doing a 2014 30-day personal blog series sharing her history of panic attacks and anxiety, Karla was directed towards artists who use their art to help cultivate and support their wellbeing and encourage others to do the same.

It was through that sharing community and environment that Karla learned to re-embrace, encourage, and accept the artist she'd always been.


She believes creating art heals and her art has since become an extension of her own therapy as she works through recovery from abuse and trauma. She aims to help others experience the benefits of a creative practice regardless of the level of skill they believe they have.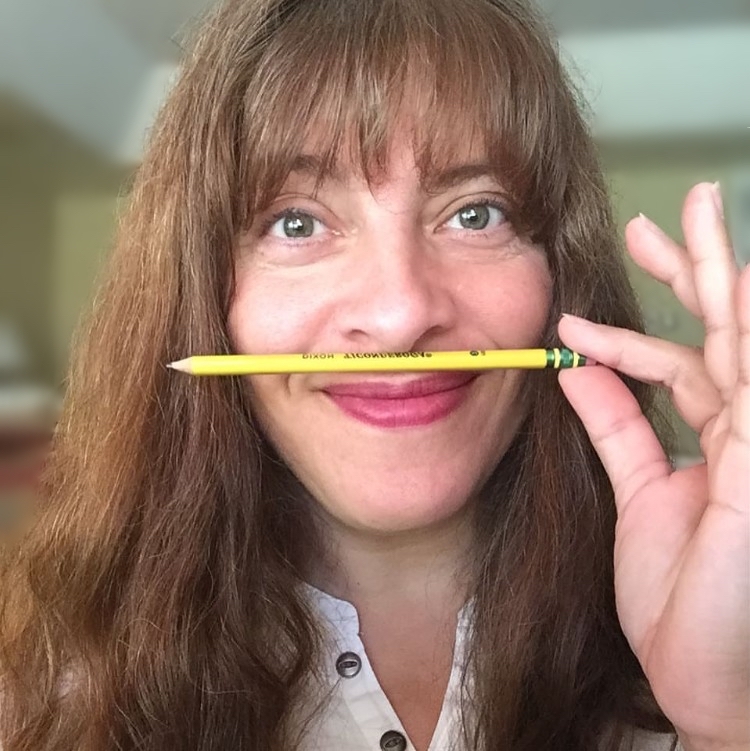 AYALA ART
Martha from Ilove2paint aka AyalaArt

"I loved art since the first time when I was a little girl and drew a long magical line that went from my paper to the table, and from there to a wall.
I enjoy working in a variety of styles, using different kinds of media, I am a portrait and mixed media artist and art instructor, and creator of the fun "29 faces" challenge. I love producing content for beginners and see how they find their own magic."
Course Curriculum
Gratitude Junk Journal 2021
Available in days
days after you enroll
Frequently Asked Questions
When does the course start and finish?
The course starts November 1, 2021 and goes through November 30, 2021. Afterwards it's a completely self-paced online course - you decide when you start and when you finish.
How long do I have access to the course?
How does lifetime access sound? After enrolling, you have unlimited access to this course for as long as you like - across any and all devices you own. Lifetime is the lifetime of the course/my web site.
What if I am unhappy with the course?
We do not issue refunds for this course because once you pay for the class, you have instant access to the available content. We ask that you read all the details on this page and purchase mindfully. However, we would never want you to be unhappy! If you are unsatisfied with your purchase, please contact us.